December 16, 2005
People who subscribe to your blog will be more inclined to read more of your posts. They will also be more inclined to comment on or link at your posts. Making it easier for people to subscribe to your feed sends lots of love your way.
People use a wide variety of feed readers, but I thought it would be cool to provide the buttons to the most popular feed readers to help users subscribe to your content.
Attached in the syndicate zip file is the subscriber images for some of the most popular feed readers, XHTML source code for using the images horizontally or vertically, and directions for how to integrate them into your blog.
Here is what the buttons look like vertically: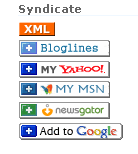 Here is what the buttons look like horizontally.
Code to post the images vertically and horizontally is included in the zip file. You can also alter the code however to fit your site design. ff you need more specific tips for integrating the buttons on your blog please let me know.
Thanks to Andy Hagans for making a few of the buttons.